Date of Publication
Frist issue avaliable
Date of Publication
Last issue avaliable
Price for each issue
: Free
Pubisher
Xinhua Guanggao Gongsi
Annotation
Though Fengguang Huabao's name – literally 'scenery pictorial – suggests a magazine about sightseeing and landscapes, its subtitle reveals its true subject: 'A Special Issue on Hong Kong Dance Halls'. This complimentary publication, sponsored by five of Hong Kong's top dance halls (Zhonghua, Bailemen, Jindian, Kaixuan and Gaole), features pictures showing their interiors and photographs of the dancing girls stationed in them.
Its pages also included many articles on dance hall culture, including 'A Small Dictionary of Terms used in Dancing Halls', which explains the origin and meaning of phrases such as 'volcano' (huo shan), 'test drive' (shi che), and 'rice-ball eating' (chi tangwan), and an article titled 'Popular Dance Songs in Dancing Halls', which introduces many of the most-played tunes.
Despite being free, Fengguang Huabao was a well-edited, sophisticated, fresh-looking publication that captured the mood of Hong Kong's entertainment culture at a time when, along with movie-going, visiting dancehalls was one of the most common forms of popular entertainment. As its editor noted: 'Entertainment is indispensable in any place. Hong Kong is no exception. In Hong Kong, the most popular entertainment after the war has been dancing'. That popularity was reflected in Fenghuang's 5,000 second print-run.
Location
The University of Hong Kong Libraries/ Quan Guo Bao Kan Suo Yin (CNBKSY)
Contributors
Liu Huaiguang · Wu Zhanmei · Fei · Man · Luo Man · Wu Gui · Gu · Lao Keren · Ou Zhouren · Lun Ren · Lao Ke · Yong Ren [1]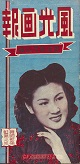 [1] Liu Huaiguang is a photographer. All others are contributors to the creative writings.