Annotation
Wenrouxiang was a comic strip magazine of six pages, half printed in full colour and half in two tones. Its many advertisements, all also in the format of comic strips, mainly promoted medicines, such as tablets for treating syphilis or Bushenwan, a kidney supplement believed to boost male sexual performance. Their style and content point to the periodical being aimed at male readers.
Despite a name that can be translated as 'Her Gentleness' and a tone that aimed at being light-hearted and funny, Wenrouxiang belittled and mocked women, depicting them as money-grubbing and grovelling to the rich and powerful. Among the exceptions to this outlook were satirical commentaries on the general nature on male-female relationships.
Location
The University of Hong Kong Libraries
Contributors
Fan Ren · Qing Nian · Wu Ke · Ren · Jun Ping · Lao Chen · Feng · Lao Geng · Gu Mu · Shoushan Yinke · Shen · Da Shi · Lao Dao · Lao Ma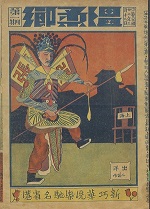 [1] A 1929-published three-day-journal (changed into a weekly by 1935) had the same title.